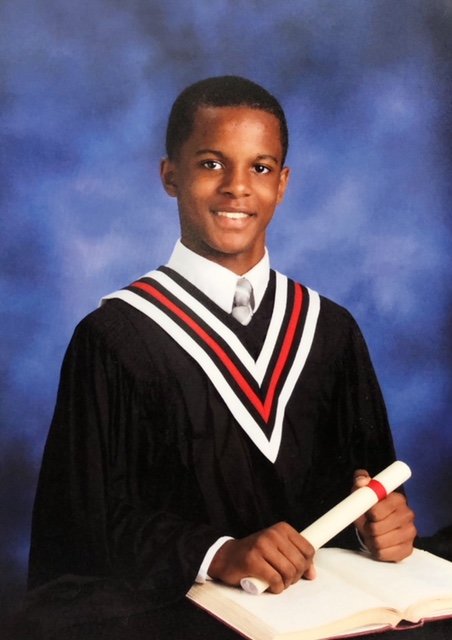 Obituary of Noah Watson
Noah is the dear son of Natalie Watson and Andrew Scott.
Noah is survived by his step-father Christian Reid, grandmothers Lillius Watson, Margaret Reid, Patricia Scott, grandfather Lloyd Reid, brother Dontae, sisters Taijah, Brianna and Christina and many aunts, uncles and cousins.
Noah grew up in Toronto, Ontario. He graduated from Holy Name Catholic Elementary School. He was currently attending the 9th grade at Notre Dame College School in Welland, Ontario.
While attending both schools, Noah was involved on the Track team where he was a very advanced member of the NCAA.
Noah is remembered for his wittiness, comedic attitude, the fierce way he took pride in his appearance, his artistic and creative nature, his dancing moves, his huge charm and "BIG" loving heart.
Noah was a young man who loved to be with family and friends. He was class comedian and a protector, who would be the first to defend what he loved.
Noah touched many lives and hearts and will be missed but never forgotten.
Please join us for visiting on Friday, June 8, 2018 from 3-4:30 p.m. at the eco Life Celebration Centre - Magnolia Chapel of St. John's Dixie Cemetery (737 Dundas St. East, Mississauga, at Cawthra).
We welcome you to visit again on Saturday, June 9, 2018 at the same location from 9:30 a.m. until 10:30 a.m. at which time a Funeral Service for Noah will be celebrated.
Burial will follow on site at St. John's Dixie Cemetery.
In tribute to Noah, we invite you to share in your favourite memories, photos and stories of his life here at his Memorial Website. Your participation in creating his legacy is greatly appreicated. Photos may be uploaded using the 'Add A Photo' option under his main photograph. Flowers may also be ordered via the link on his webpage.
Uniquely entrusted to eco Cremation & Burial Services Inc.
Life Celebrations. Done Differently.